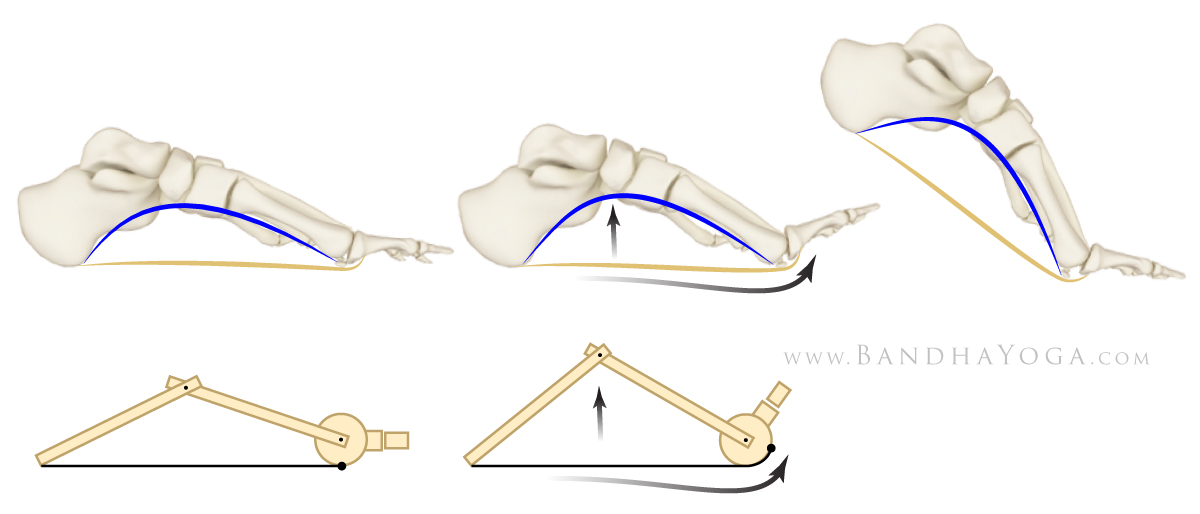 Overview
Plantar fasciitis is a condition characterised by damage and inflammation to the plantar fascia (i.e. the connective tissue on the
sole
of the foot forming the inner arch. This usually occurs at the attachment of the plantar fascia to the heel bone. Plantar fasciitis is the most common cause of heel pain seen in clinical practice. During walking or running, tension is placed through the plantar fascia. When this tension is excessive (often due to poor foot biomechanics such as
flat
feet or if it is too repetitive or forceful, damage to the plantar fascia can occur. Plantar fasciitis is a condition where there is damage to the plantar fascia with subsequent inflammation and degeneration. This may occur traumatically due to a high force going through the plantar fascia beyond what it can withstand or, more commonly, due to gradual wear and tear associated with overuse. Occasionally, a heel spur may develop in association with plantar fasciitis.
Causes
You are at a greater risk for developing plantar fasciitis if you are overweight or obese. This is due to the increased pressure on your plantar fascia ligaments, especially if you have sudden weight gain. Women who are pregnant often experience bouts of plantar fasciitis, particularly during late pregnancy. If you are a long distance runner, you may be more likely to develop plantar fascia problems. You are also at risk if you have a very active job that involves being on your feet often, such as a factory worker or a restaurant server. Active men and women between the ages of 40 and 70 are at the highest risk for developing plantar fasciitis. It is also slightly more common in women than men. If you have foot problems, such as very high arches or very
flat
feet, you may develop plantar fasciitis. Tight Achilles tendons (the tendons attaching the calf muscles to the heels) may also result in plantar fascia pain. Simply wearing shoes with soft soles and poor arch support can also result in plantar fasciitis. Plantar fasciitis is not caused by heel spurs. A heel spur is a hook of bone that can form on the heel bone (calcaneus) of the foot. One out of every 10 people has a heel spur, but only one out of 20 people with heel spurs experience pain, according to OrthoInfo.
Symptoms
People with this condition sometimes describe the feeling as a hot,
sharp
sensation in the heel. You usually notice the pain first thing in the morning when you stand. After walking for a period of time, the pain usually lessens or even disappears. However,
sharp
pain in the center of the heel may return after resting for a period of time and then resuming activity.
Diagnosis
Your doctor will check your feet and watch you stand and walk. He or she will also ask questions about your past health, including what illnesses or injuries you have had. Your symptoms, such as where the pain is and what time of day your foot
hurts
most. How active you are and what types of physical activity you do. Your doctor may take an
X-ray
of your foot if he or she suspects a problem with the
bones
of your foot, such as a stress fracture.
Non Surgical Treatment
To alleviate the stress and pain on the fascia, the person can take shorter steps and avoid walking barefoot. Activities that involve foot impact, such as jogging, should be avoided. The most effective treatments include the use of in-shoe heel and arch cushioning with calf-stretching exercises and night splints that stretch the calf and plantar fascia while the patient sleeps. Prefabricated or custom-made foot orthotics may also alleviate fascial tension and symptoms. Other treatments may include activity modifications, NSAIDs, weight loss in obese patients, cold and ice massage therapy, and occasional corticosteroid injections. However, because corticosteroid injections can predispose to plantar fasciosis, many clinicians limit these injections. For recalcitrant cases, physical therapy, oral corticosteroids, and cast immobilization should be used before surgical intervention is considered. A newer form of treatment for recalcitrant types of plantar fasciosis is extracorporeal pulse activation therapy (EPAT), in which low-frequency pulse
waves
are delivered locally using a handheld applicator. The pulsed pressure wave is a safe, noninvasive technique that stimulates metabolism and enhances blood circulation, which helps regenerate damaged tissue and accelerate healing. EPAT is being used at major medical centers.
Surgical Treatment
Surgery should be reserved for patients who have made every effort to fully participate in conservative treatments, but continue to have pain from plantar fasciitis. Patients should fit the following criteria. Symptoms for at least 9 months of treatment. Participation in daily treatments (exercises, stretches, etc.). If you fit these criteria, then surgery may be an option in the treatment of your plantar fasciitis. Unfortunately, surgery for treatment of plantar fasciitis is not as predictable as a surgeon might like. For example, surgeons can reliably predict that patients with severe knee arthritis will do well after knee replacement surgery about 95% of the time. Those are very good results. Unfortunately, the same is not true of patients with plantar fasciitis.
Stretching Exercises
Stretching your plantar fasciitis is
something
you can do at home to relieve pain and speed healing. Ice massage performed three to four times per day in 15 to 20 minute intervals is also
something
you can do to reduce inflammation and pain. Placing arch supports in your shoes absorbs shock and takes pressure off the plantar fascia.